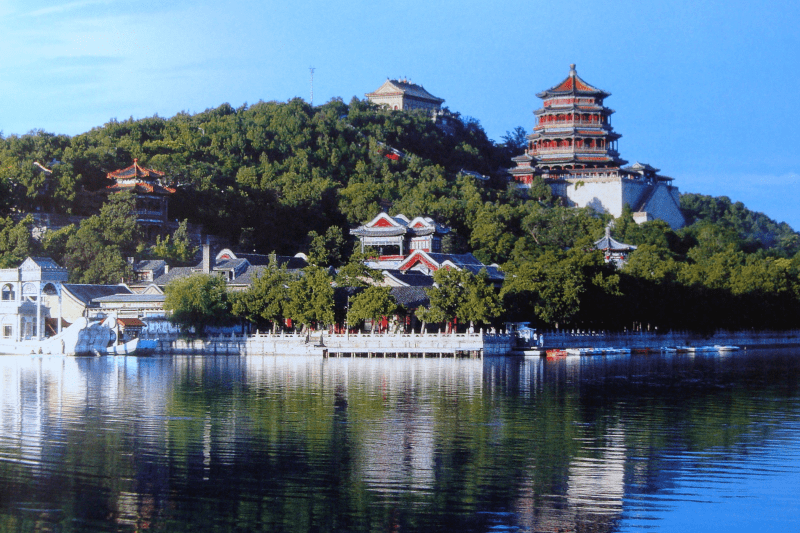 Summer Palace (Yiheyuan) - Ancient Chinese imperial gardens
The Summer Palace, as the best-preserved imperial residences in China is mainly dominated by Longevity Hill(Wanshou Shan)and Kunming Lake. Emperor Qianlong in Qing Dynasty and his royal families used to retreat to this royal garden in summer to get away from the heat in Beijing. This royal garden is a vast ensemble of lakes, plants. gardens and palaces with bountiful halls and pavilions in the front while mostly natural scenery in the rear. In December 1998, it was listed into World Heritage List by UNESCO and was acclaimed as "a masterpiece of Chinese landscape garden design". Booking in advance means you can save hours of waiting in line and get mobile ticket accepted with QR code which you scan at the barriers to get in.

Address: No.19 Xinjian Gongmen Road, Haidian District, Beijing 100080 China
景区地址:北京市海淀区新建宫门路19号
How to get to Summer Palace
`

To Xigongmen

:

take bus line 469 or 539 to get off at Yiheyuan Ximen(western gate of Summer Palace)
To Beigongmen

:

take metro line 4 and get off at Beigongmen. Leave the station from exit D. Or take bus line 303, 330, 331, 346, 375, 384, 563, 601, 608, 683, 697, 718, S5 or S10 to Beigongmen.
To Donggongmen

:

take metro line 4 and exit at Xiyuan station. Leave from Exit C2. Or take bus line 209, 330, 331, 332, 346, 394, 601, 608, 626, 683, 690 or 718 and get off at Yiheyuan station.
To Xin Jian Gong Me

n

:

take bus line 74, 374 or 437 and get off at Xin Jian Gong Men(new gate of Yiheyuan)
To Nanruyime

n

:

take bus line 74, 374 or 437 and get off at Nanruyimen
 Seasons
 Opening Hours
 Stop Entry
 Stop Ticketing

 High Season




April 1st - October 31s

t

08:30-17:00
20:00
 1 Day in advance

 Low Season




November 1st - March 31st



09:00-16:00
 19:00
 1Day in advance
· There may be temporary closures which cannot always be scheduled in advance, since they are frequently caused by unforeseen circumstances. The management of the Park would like to apologize for any inconvenience caused.
High Season

(April 1st - October 31st)



 
  

Admission Ticket

 

Combo Ticket (

Dehe Garden, Tower of Buddhist Incense, Wenchang Hall, Suzhou Street and Danning Hall

)

 

 Adults (18-59)



$7.99
$11.99

Child(6-18)



$3.99
$7.99
Low Season

(November 1st – March 31st)



 
  

Admission Ticket

 

Combo Ticket (

Dehe Garden, Tower of Buddhist Incense, Wenchang Hall, Suzhou Street and Danning Hall

)

 Adults (18-59)



$6.99
$10.99

Child(6-18)



$5.99
$9.99
No ticket needed for Children under 6

Free tickets available for seniors above 60. (Seniors should use their valid passports or ID card to get free tickets from the tickets office. )